I just realized that I've completely abandoned this blog for the entirety of 2016 LOL. Anyway, this post is a quick run through how 2016 went for me. (I didn't have time to post-process  any of the pictures so I apologize for that HAHA.)
I cannot even begin to describe 2016 without saying "wow" again and again in my head. I started the year brightly, bringing all of the lessons and meaningful memories from JTA to the year ahead of me. 2015 is a year of stepping out of my comfort zone and trying things for the first time. By the end of that year, all I wanted for 2016 was to continue this adventure with my Seoul Sisters, and in more ways than one, I did achieve this goal…only I got more than what I could have ever imagined. 😊
My theme for this year is Say Yes to New Adventures which I believe is appropriate given that I wanted to continue my adventures from JTA. July 2016 also marks the beginning of my senior year and I realized that there are still so much stuff I haven't tried or experienced. I believe that the mantra  gave me courage and helped me grab all the opportunities to learn and grow no matter how uncertain and scary the outcome may be. I took a couple of leaps of faith, and with just the right amount of confidence in myself and support from my loved ones, I can say that 2016 was one heck of an adventure that I said "Yes" to.
January
Lasik –I now have 20/16 eye vision!!!!!!!! Never thought this day would come ❤
February
Finished 1st Runner-Up in ACCESS – Sustainability Case Competition by MEA and Nestle
Actually really thankful that this group formed out of nowhere one night. We were even invited for a post-competition presentation to the CEO of Nestle PH a few weeks later! What an experience!
2. FAME Talk  (Getting to hug Chris Tiu!!!!!)
March 
1. TEDxADMU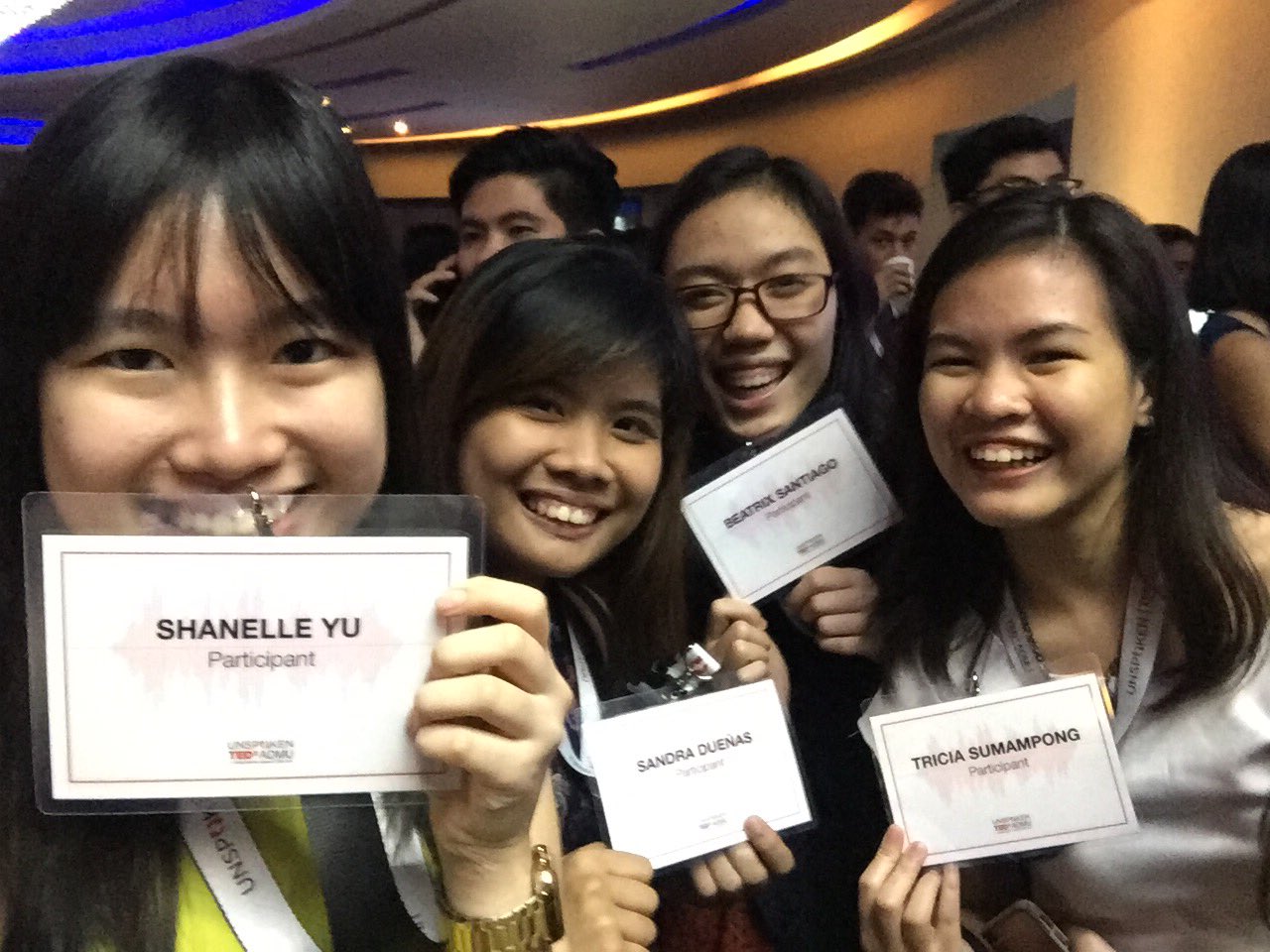 The girls and I applied for TEDx when we were still in S.Korea so we were all excited to go together in March. All the talks were unique and inspiring in their own way and the speakers were all very passionate about their ideas. Absolutely loved the event.
April
1. Arsafest
Got to bond with my MEc blockmates in Arsafest 💕
2. Build with GK-Ateneo
So thankful to be given an opportunity to head such a meaningful project ❤
3. JEEP – National  Bookstore
Worked as a bagger/sales person in National Bookstore-Ali Mall for JEEP  (under the Praxis Program of Ateneo). Got to meet and exchange stories with these hardworking people. 😊
May
Cebu with ME blockmates
Still one of my favorites trips to date!!!!! This is also a result of the spontaneous booking we had when we were still in S.Korea. We had so much adventure from motorcycle riding to island hopping to canyoneering. ❤  Hope I get to see more of the PH beauty next year. 😊
2. ACLC EvSem
My first commitment for SY1617 is to serve as one of the LC7 of ACLC. Can't thank this community enough for the trust they gave me.
June
Visited my Alma Matter and had a mini reunion with some friends from HS
That same day, I decided that I wanted to learn to play the guitar :p
July
Roommates ❤
These two made my SMEG sem bearable. From the harutan to all the heart-to-heart conversations, thank you bitches. I love you two. 😘
2. Field trip with Shiela, my little sister.
First time accompanying my sister in her field trip! Glad I did this because who knows, she might feel too old to want someone to accompany her for her next field trips HAHA. I honestly also enjoyed going to the zoo and taking her pictures in the interactive musuem. #AteDuties
3. Baking with Seoulsearchers
If you know us, you'd also probably know that we celebrate our monthsary HAHA #singlelife. For this particular month, we decided to try our luck in baking! The chocolate chip cookies were soft-baked and mouth-watering, no joke. ✌
August
Marketing Minor
I began pursuing a minor in Marketing at the start of my senior year. Here's a picture of my group after our final defense for Brand Management.
2. Calligraphy
Decided to try calligraphy. I suck but I enjoy it hehe
3. First sleepover
Now that Shanelle, Ysa and I are roommates, Bea and Sandy brought their own mattresses and left them at our dorm so they can sleepover anytime they want HAHAHA
4. Start of Scintilla, our social enterprise 
In the first quarter of 2016, my Political Science professor asked each one of us in class about what we want to be in the future. When I answered "social entrepreneur", I didn't know that a few months later, I would be starting a social enterprise with my closest friends and two other passionate young ladies. This picture was taken in Christ the King Village – Gawad Kalinga, our partner community for this venture. So many exciting things to come. ❤
5. New Unit (ACLC)
I'd say growing together spiritually is definitely #friendshipgoals. So blessed to be with these people for my senior year.
6. Maginhawa with Katipuneras
After almost four years of  begging them to visit me (lol), these three Archers finally found themselves in Katipunan!!!!
September
ACLC Orsem
Welcoming the newbies to ACLC ❤
2. Iraya Talk
Part of my pledge to say yes to new adventures is to take opportunities like this! This picture was taken in Iraya Study Center where I talked about Academic Excellence and Success. I always love sharing about my college journey because I personally find it very colorful. 😊
3. JTA Talk – ASEC
A few weeks later, Shanelle and I were invited by ASEC to talk about our JTA experience in South Korea. It was our hell week that week so we didn't have much time to prepare. Nonetheless, I can say that the talk was jam-packed with #FEELS and I'm pretty sure everyone from the crowd would agree to that LOL.
4. Birthday
I don't usually make a big deal out of my birthday because it usually feels just like any other day for me. This year, however, I felt extra special. I still remember how much love I received from the people that matter that me that day and until today the warm hugs and presents and sincere birthday messages still make me smile. (P.S. Besides that guitar, I also got a mermaid blanket from the girls!!!!!)
October
Immersion with the Dumagat Tribe
This is definitely one of THE highlights of my year — a 3D2N immersion with the wonderful Dumagat Tribe in Tanay, Rizal. They're some of the most generous, hardworking people I've ever met and my heart will forever be grateful that I was given an opportunity to get to know them. I believe this deserves an entire essay for itself so let's just leave it at that!
2. Coming Home Retreat
A week after immersion, I went to an overnight silent retreat with Sir BobbyGuev as the Retreat Master. He talked about his famous Prodigal Son lecture and everything about it was just spot on everything I needed to hear! After this retreat, I made a commitment to always #ChooseJoy and it's something I continue to live by until today. 😊 There weren't any pictures from the retreat but everything said and heard within those two days will always be kept close to my heart.
#NoSleepNovember
Collab with our designer for Scintilla
2. Grad Photoshoots (these actually made me so emotional huhu)
Taken after our individual shoot.
Seoulsearchers.
JTA Seoul 2015.
AB Management Economics – Block H3.
I only spent one year with this block but I will always consider them family.
JTA block in our winter outfits.
Big LC – Ateneo Christian Life Community.
BS Management Engineering – Block T6.
I never even met some of the people in this picture lol but I will always always be thankful that I became a part of this block.
ACLC Seniors
Maybelline Team.
Groupmates for Mkt101 and Fin105 in 2015, family for life. ❤
3. Area Christmas
Had a simple but fun-filled Christmas celebration with our community in Payatas Uno. Here's a picture with Baby Trisha who's not a baby anymore. HAHA
4. Date with Mermaids
Shanelle's failed attempt to adult. Such a kid, that girl.
#DamingGanapDecember
HPAIR + scholarship
One of the biggest blessings of 2016 is being accepted as a delegate for the HPAIR Hardvard Conference in 2017 AAAAANDDDDD being one of the twelve delegates to get the scholarship!!!! I was in the 5-day Ignatian Retreat that time but thanks to my email handler jk to my best friend Sam who scheduled and arranged everything, I was able to do the scholarship interview mid-way of the 5-day Retreat! 💕
2. Theo141 Final Oral Exam
This deserves to be here because 1.) IT'S THE LEGENDARY MR. BOBBY GUEVARA 2.) I got Prodigal Son for this oral exams WHAT AN HONOR 3.) I cried because I learned so much from this man and from his class. Easily one of my favorite classes ever.
3. ADMU vs DLSU Basketball Finals
We lost but well I still got to watch an ADMUvsDLSU basketball game with this bunch sooooo..HAHA
4. Christmas Party with MEc & ME blockmates
Lunch with MEc blockmates but I was late so picture na lang huhu sorry friends
Dinner with ME blockmates while we work for Hult at the side #WorkNeverEnds.
5. Hult Prize at Ateneo – Top 3
This is the first project we worked with where all four of us are part of. What made it more meaningful is that the case was about solving the refugee crisis and our output can make a difference in the lives of the refugees around the world. Can't imagine working with a team other than these three brilliant and passionate girls beside me.
6. 5-day Ignatian Silent Retreat with ACLC
After the most stressful and emotionally draining semester I ever had, this 5-day retreat allowed me to quiet down,rest, and reflect.
7. Qualifying for Phase 2 of FLL
I put this here because Shanelle and I wanted to order one of the sneakers from the Converse Nude Collection from Ateneo Trade but I jokingly told her that we can buy it in London ourselves LOL. I honestly wasn't expecting this when I said that, but now we're more determined to go. 😭 #Mermaids
8. SMEG
I would say that my BIGGEST achievement in 2016 is finally being able to say I am now a sure M.E. graduate. 😊
9. Family trip to Japan
What better way to end the year than go on a vacation to Japan with your family? This is actually our first complete family trip out of the country and I thank God that after a really busy year, I finally had the chance to catch up and bond with my family. What made this trip memorable isn't Disney Land or Mt. Fuji or any of the other places we went to. What made this trip memorable is the time spent together laughing and freezing and getting lost together. My family will always, always be my life's greatest blessings and I thank them for their constant support and extra patience even when I admittedly don't deserve it sometimes hehe.
I'll probably have more a sentimental content in my year-end instagram post later so I'll end this list here. What else can I say, 2016, you were EPIC.